Modern Kitchen Design Trends of 2021
22/09/2021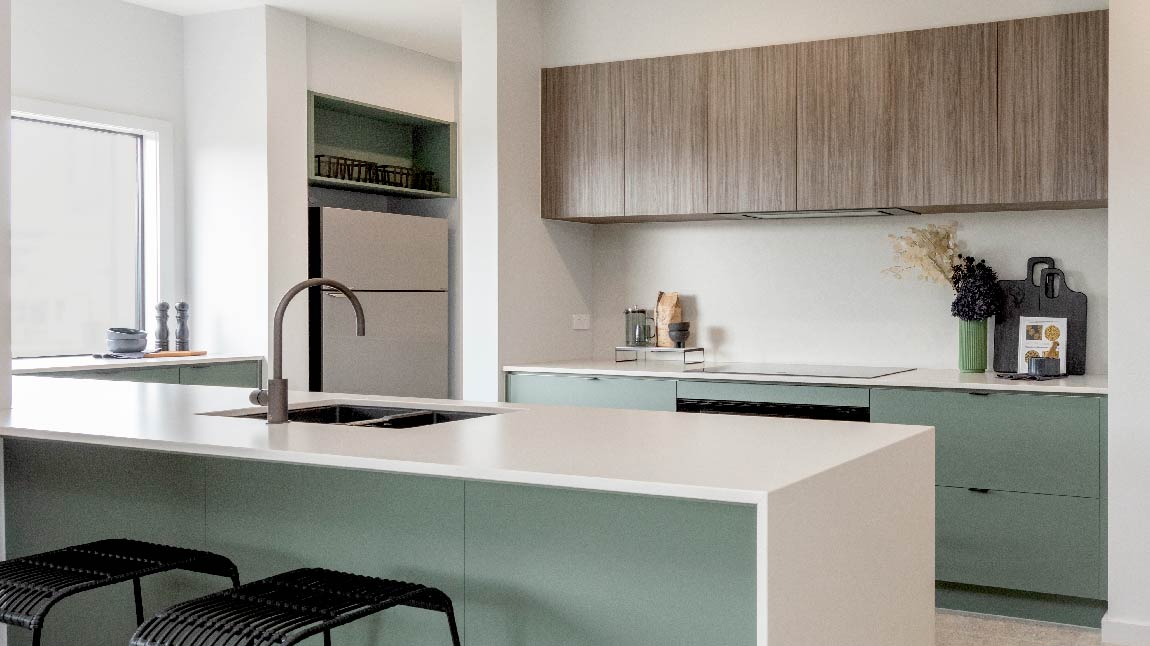 Make an impression with the hub of your home – the kitchen

Kitchens have come a long way since the 1950's Formica. There are so many choices and trends that come and go, but there are three key elements that your kitchen should always have: functionality, practicality, and personality.

Not only is the kitchen the place we prepare and enjoy meals, it has taken on the role of being the social gathering hub, the office, the classroom and much more.

Whether you're looking for extra storage with a hidden walk-in pantry or butler's kitchen, making a statement with pendant lighting, or need your kitchen to double as a work area – we've got you covered.

Your choice of colours

Greys and midnight blue are continuing to trend in the kitchen, but statement colours such as off-black, aubergine and deep turquoise are also a popular choice.

Many are also making a statement by contrasting the colour of the benchtops against the cabinetry. For example, this could be contrasting a marble or stone-look benchtop against blue cabinetry in a Hampton style kitchen.

A key trend we expect to grow is the calming palette of muted and earthy tones, creating a relaxing atmosphere for the hub of the home.

Clever storage



Clever storage solutions are essential for maximising space without negatively impacting the look and style of your kitchen.

One way to achieve this is through a walk-in pantry or butler's kitchen – which provide ample space to hide away your pantry items and even appliances out-of-sight, leaving your main kitchen area looking clean and tidy.

We're often asked: what is the difference between a walk-in pantry and a butler's pantry?

A walk-in pantry is essentially an oversized closet where you can store food, cleaning supplies, condiments, or whatever you please. Your walk-in pantry design can include smart storage ideas like baskets, hooks and racks to make the most out of the extra storage space.

A butler's pantry, on the other hand, is essentially a small kitchen tucked out of sight. A butler's pantry design can include cabinets, countertops and even a sink to take care of unsightly dirty dishes. This is a perfect inclusion for those who love entertaining guests.

Kitchen features



Splashbacks have a practical purpose, but they can also make a statement. Window and tiled splashbacks are very popular with our customers.

Synonymous with elegance and style, marble and stone benchtops are still a prominent choice when our customers ask for upgrades. These are not only timeless, but suit a range of design styles, from a Hamptons style kitchen to sleek and modern kitchen designs.

Upgrading to feature pendant lighting is also being considered a must in most homes. When installed above a kitchen island, pendant lights create an impressive yet practical focal point.

Working kitchen



During 2020 as we all spent more time at home, we saw the rise of the 'working kitchen' with increased demand for multi-functional spaces.

This includes extended breakfast bars or kitchen islands that can double as a workstation when needed for those working from home or students.

Office nooks have also been popular in the kitchen and meals area. This can be an ideal solution when a separate dedicated office is not practical to the design of the home.

So many options



There are so many choices and features available for our kitchen designs now that make life easier.

Burbank homes feature 900mm European style appliances as standard, or you might like to carefully select from our range of upgrades – from soft-close drawer runners and door hinges to a seamless no handle look, we have you covered.

Our Interior Designers in our Edge Selections Studios around the country are there to help you with these and many more options for the family hub of your home.
---