CATEGORIES
CATEGORIES
Latest News and Burbank Updates

Property Insights and Investments
Latest News and Burbank Updates

Property Insights and Investments
Styling update: autumn
Autumn is fast approaching, and while the arrival of a new season means the end of lazy Sundays spent wading in rock pools with a fizzy drink in one hand and a melting ice cream in the other, it also marks the beginning of new trends in interior style. So that's pretty good I guess.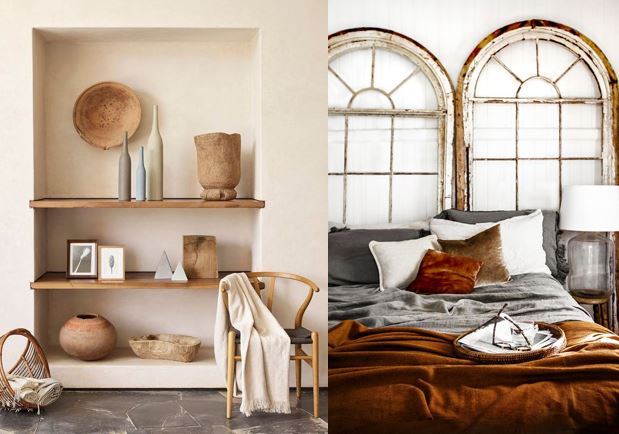 Home decor images sourced from Pinterest
While crying into my tea (salty) at the realisation that there are but eight days left of this gorgeous and glittery summer season, I decided to get in touch with our design team for a little consolation.
Not only are they very nice people who understand how to comfort a friend in need, but they are also style experts, who happily revealed how I (and you) can easily echo autumn's colour palette into your home, which was confusing, but also a kind distraction which I think you'll find to be quite insightful, and comforting if you too are mourning the loss of your beloved sweaty season.
They also threw in a few bonus tips for choosing fixtures for your home. Golly they are good.
AUTUMN HOME STYLE
TIMBERS
Adding timber accents into your home, whether it be decorative pieces or furniture, will always add a touch of warmth to a space, which is perfect for autumn. As we pack away the bright popping colours of summer, the integration of a strikingly natural product serves to elevate that sense of interior luxury. Additionally, plants are also still very on trend right now, their lush greens nicely complementing the palette that autumn provides.
BURNT ORANGE
Burnt orange and velvet will definitely be sticking around for autumn, so why not add a burnt orange throw or cushion to a fabric couch for an immediate cosy autumn feel? Crisp white and grey linens are virtually a win all season round, but pairing them with this pop of warm colour is a perfect way to emulate the mood of the outside and bring it in.
HELP! I HAVE NO STYLE.
Rest easy, not everyone does.
However, thankfully our interior team do, so while barraging them with questions about Autumn home style vibes, they divulged five other things for buyers to keep in mind when choosing new home fixtures:
Five hot tips for gorgeous home decor
1. Don't be afraid to switch around contrasting paint colours by using a darker colour on the internal doors, skirting boards and architraves and a lighter colour on the internal walls. There are no rules on where the contrasting paint should go – be bold and daring!
2. If you love French Provincial styled interiors but don't know how to create the look in your home, it isn't as hard as you think. Simple things like adding knob handles and shaker door profiles to your kitchen cabinetry will instantly give you the look and feel you are after.
3. Lighting fixtures are a great way to change the look or feel of a room. Use a timber pendant if you want to bring in warmth to a cooler space, or use a black pendant to create a striking and bold feel. Even simple things like playing around with cool or warm globes can make all the difference!
4. When choosing your front entry door, if you want to make a statement you don't necessarily need to go with a stained timber door. Using a crazy pop colour for your front door will also look amazing and will create a quirky vibe to your façade. Remember it is the door that welcomes people into your home, so there's no harm in showing off a bit of personality and having some fun with it.
5. There is nothing wrong with keeping things simple, especially when it comes to bathroom tapware and basins. Being consistent and using the same fixtures in every bathroom will always look classy and timeless.
And a final word from the team.
Though for now the nation shall mourn the loss of its most treasured season, we shall not cry because it's over, but we will smile because it happened.
If you're interested in having a squiz at our fabulously styled displays in VIC, SA, NSW/ACT or QLD, then swing on by and see some of these fab tips implemented by the experts.